Meet Tyler – October Mentor of the Month
Tyler is our October Mentor of the Month! Tyler is an In-School Mentor with Big Brothers Big Sisters of Waterloo Region who's had an incredible impact on his Little over the past year. He's lived in the KW Region for about 8 years and completed his diploma in Police Foundations at Conestoga College as well as a postgraduate certificate in Advanced Police Studies! It's evident that he cares about having a positive impact in our amazing community.
Tyler was lead to Big Brothers Big Sisters of Waterloo Region through his education. In his program, he learned about a variety of agencies in the Waterloo Region and how local police officers can use these services to positively influence people within the community. It wasn't until after he finished his schooling and began to settle into his new rhythm with work that Tyler decided to take the plunge into becoming a volunteer with BBBSWR. He sparked a conversation with a coworker about the opportunity to volunteer and become a Big Brother who was incredibly supportive about getting involved with local youth and playing a role in Mentorship! We asked him why he put his volunteering efforts towards BBBSWR and he responded:
When I was younger I had a Mentor myself and I thought about that experience I had as a kid and realized it was a good opportunity to pay it forward and help out a kid who was in the same situation as I was—and that's exactly what happened. I got matched with a kid who needed the help just like I did and it's the greatest experience being able to Mentor.
"Tyler, what moved you to volunteer?"
I think the reason why, not only did I decide to start, but also chose to continue volunteering was that at the end of an hour with my Little Brother, there's a sense of satisfaction. There's this feeling that you know that only one hour of your time has gone a lot further than just an hour for him. When you spend an hour of your time in a week, he's going to benefit for more than just an hour. You might impact his whole day or his whole week. By spending an hour per week for a month, that really pays out more than it feels like you're putting in.
Tyler has been matched for about half a year with his Little Brother and says that the impact he's seeing and the feedback he's receiving is overwhelmingly positive. He's seen the growth week-to-week in his Little's demeanour and outlook, and has received incredibly positive feedback from the staff at the school about his Little being more engaging in class and being more active, and this feedback has really inspired him to continue doing it and to keep him on track.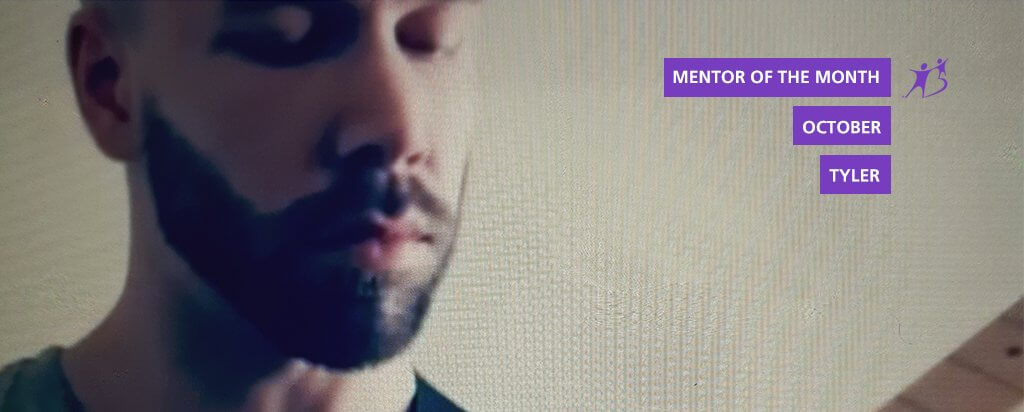 Tyler has been volunteering since he was a teenager, spending summers at Silver Lake Camp, volunteering with the Salvation Army and retirement homes. He's been actively volunteering with police services, and currently volunteering with Victims Services of Waterloo Region. "I think the strongest community is always going to be the communities that are involved with each other."
We have to take care of ourselves in order to grow and improve, take care of each other. Imagine if we weren't involved? What kind of issues would never get resolved? What problems would never be addressed? It's because of volunteers and people that take the time out of their day to be selfless and help each other that a community is able to thrive. It's the reason that kids can grow up to be the best people that they can be.
On a typical day with his Little Brother, Tyler gets to explore his crafty and artsy side. After discovering his Little's interests, they got into making paper airplanes together! Tyler even gifted him a calendar that has all sorts of different planes that they build together, test out, and figure out which are best! They draw together and test their hands at origami! "I like to do origami with him, but I'm not great! It puts him in a position where he's the leader and he gets to practice things like being patient with me and teaching me." The drawing was a big avenue to creating conversation and getting his Little to open him. Drawing down ideas and thoughts brought out feelings to talk about.
Tyler's favourite thing about volunteering is that it takes him back to being a kid. He likes to be able to play again. "It's fun to play, it's fun to get away from work for an hour sometimes and just let things go. I think that it more importantly brings me back to a point where I was a kid and I needed a Mentor in my life to learn how to cope with somethings that were happening. It gives me a time to reflect and be thankful for the time that I've had with somebody that had my back and had my best interest in mind and I get to be that person for somebody. It reminds me of a time when I was a Little."
Tyler's advice to anybody out there who's thinking about volunteering but doesn't know what to expect is to just ask questions! "Give BBBSWR a call, talk to somebody that's in a program. Ask me! Hit me up! Ask how my experience was, I'd be happy to share with you. We want more people to get involved because we understand that there's a benefit. Especially a need for volunteers—young guys. Anybody involved in the program including BBBSWR staff, school staff, and volunteers are willing to give you 15 minutes of their time to talk about what they do and tell you why you should do it too!"