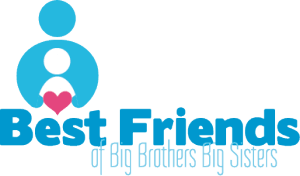 Best Friends of Big Brothers Big Sisters of Waterloo Region
Best Friends of Big Brothers Big Sisters of Waterloo Region is a dynamic group of volunteers dedicated to raising funds exclusively for the work of BBBSWR. Chartered in 1989, the Best Friends have raised more than $1 million in support of the programs of BBBS during their first thirty years. By hosting engaging and innovative fundraising events, Best Friends raises both much-needed funding and the profile of Big Brothers Big Sisters.
You are invited to join this group of volunteers and lend your time and talents to support the children of our communities.
To inquire about becoming a Best Friend, please contact membership chair, Ruth Phillion at rphillion@rogers.com
Save the Date:
Monday, April 6th, 2020
Bingemans: The Ballroom
For Sponsorship and Corporate Table information please contact Deb Clark at (519) 502-2626 or debbiclark268@gmail.com
For Ticket information please contact Marjorie Brown at (519) 745-0694 or marjorieabrown@gmail.com
Sunday, October 27th, 2019
Enjoy a selection of sandwiches and desserts donated by our local eateries and bakeshops while volunteer models strut their stuff on the runway.
Best Friends General Meetings
The first Wednesday of each month beginning October 2nd.
7:00 PM – 9:00 PM at Axonify (450 Phillips Street, Waterloo)
Best Friends meet each month as a group in a social setting to plan their annual events calendar. In addition to receiving committee updates, members enjoy a brief program and light refreshments.
For more information please contact Ruth Phillion at (519) 893-9561 or rphillion@rogers.com