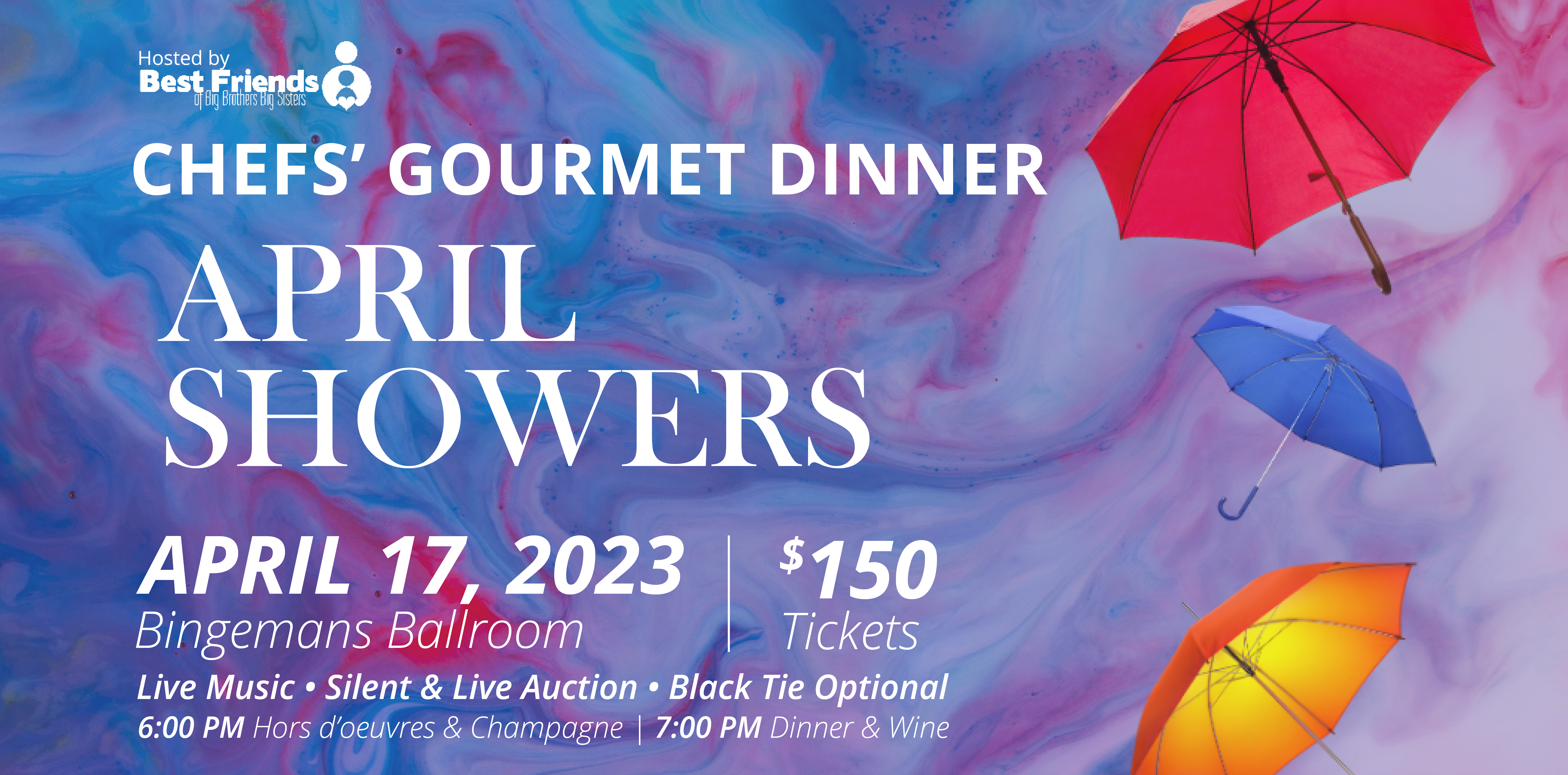 Best Friends Chefs' Gourmet Dinner
Join us at the 28th Annual Chefs' Gourmet Dinner 
The annual Chefs' Gourmet Dinner – is a signature culinary event in support of local youth in need of mentorship.  Hosted by Best Friends of BBBSWR, the event features Waterloo Region's finest chefs from 16 renowned restaurants who create an unforgettable dining experience featuring a Champagne Reception accompanied by an array of hors d'oeuvres, and concluding with a specially prepared five-course dinner.  The evening also includes Live and Silent Auctions, live music and more.
When
Monday, April 17th, 2023
Where
Bingemans
425 Bingemans Centre Drive, Kitchener, ON, N2B 3X7
Details
$150 per ticket
(Includes hors d'oeuvres, champagne reception, and 5-course dinner)
All proceeds from the Chefs' Gourmet Dinner will support Big Brothers Big Sisters of Waterloo Region
Best Friends is a volunteer fundraising organization that supports Big Brothers Big Sisters of Waterloo Region. Launched in 1989 by local television personality, Betty Thompson.  Best Friends has raised over one million dollars to support BBBSWR and its programs. Collectively this group of dedicated volunteers contributes more than 5,000 hours each year running a series of successful fundraising events, including the region's best gala, The Chefs' Gourmet Dinner. Best Friends welcomes new members.

Hosted By

Restaurants & Chefs
Platinum Sponsor

Gold Sponsors



Silver Sponsor





Sponsorship Opportunities
For more information on how to get involved with Chefs' Gourmet Dinner, contact Kathryn Ruzycki at 519-745-0180 ext. 203 or kathryn.ruzycki@bbbswr.org
2019 Gourmet Dinner!