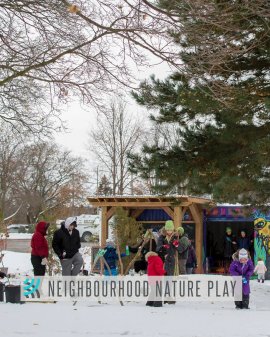 Neighbourhood Nature Play
BBBSWR Opportunity
Who?: Anyone may attend
What?: Join Nature Play Animators at Kingsdale Park and Gzowski Park for FREE nature-based programming designed to help children and their families connect
with nearby nature through games, activities, and crafts that draw attention to the natural and built elements of their neighbourhood parks.
Where?: Kingsdale Park & Gzowski Park
When?: Tuesday, December 3rd from 3 – 5 PM @ Kingsdale Park
Thursday, December 5th from 3 – 5 PM @ Gzowski Park
Tuesday, December 17th from 3 – PM @ Kingsdale Park
Thursday, December 19th from 3 – PM @ Gzowski Park
No need to RSVP. Please click here for more details.
For opportunities marked "RSVP", you are required to complete the form below.
Tickets are given out on a first-come-first-served basis and are only available to those involved with our agency.
Tickets will need to be picked up at the BBBSWR office between 9:00 AM and 4:30 PM on weekdays.