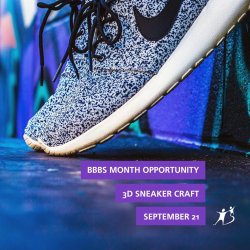 3D Sneaker Craft
BBBS Month Opportunity
Who?: All Littles
What?: Our #BeYou campaign kicks off at Cambridge Centre Mall with Sneaker Art! Check out professional sneaker artists, vote on the best, and get crafty with kicks!
Where?: Cambridge Centre Mall, 355 Hespeler Rd, Cambridge, ON N1R 6B3 at 6:00 PM – 8:00 PM
When?: September 21st, 2018
RSVP is not required–just show up and enjoy!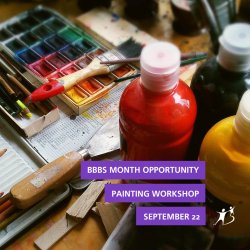 Free Painting Workshop
BBBS Month Opportunity
Who?: Kids of All Ages
What?: Our #BeYou campaign continues at Cambridge Centre Mall with a Free Painting Workshop for Kids of All Ages! Be sure to check out the Butterfly Mural and use #BeYouGirl, watch the fall fashion shows, and join in on the sticker wall!
Where?: Cambridge Centre Mall, 355 Hespeler Rd, Cambridge, ON N1R 6B3 at 1:00 PM – 3:00 PM
When?: September 22nd, 2018
RSVP is not required–just show up and enjoy!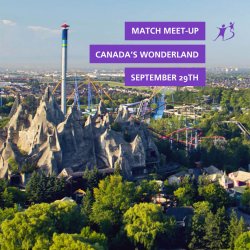 Canada's Wonderland
Match Meet-Up
Who?: One-to-One Matches
What?: Celebrating BBBS Month with a second Match Meet-Up full of thrills!
Where?: Canada's Wonderland – 1 Canada's Wonderland Drive, Vaughan, ON L6A 1S6
Pick-Up/Drop-Off Location: Homer Watson Car Park by Conestoga College, Doon (Kitchener Carpool Lot, Homer Watson Blvd./Fountain St. S. & Hwy 401)
Please arrive promptly by 8:15am
A BBBSWR staff member (Lauren) will be meeting all of the matches at the pick-up location. Lauren will be taking attendance and giving each match their tickets for Canada's Wonderland.
One of the Mentors will be given a list of all volunteer names and phone numbers to complete attendance for the drive back as a BBBSWR staff member will NOT be attending the event.
When?: September 29th, 2018 8:15 AM – 3:30 PM
Pick-Up from Carpool Lot: 8:15am
Pick-Up from Canada's Wonderland (return trip): 3:30pm
Drop-Off at Carpool Lot: Determined by the length of the drive home
Please submit the RSVP form below to enter the DRAW by September 24th.
SASCWR Workshop: Gender Boxes
BBBSWR Opportunity
Who?: Only Big Brother Matches
What?: BBBSWR has been approached with a fantastic opportunity that we are hoping you will be interested in attending as a Match. The Sexual Assault Support Centre of Waterloo Region (SASCWR) will be hosting a workshop for our Big Brother matches in October 2018. We encourage you to sign up for this informative discussion on "Gender Boxes" and become part of the discussion on equality. "Man up". "Act like a lady." Statements like these are heard every day and push people into boxes based on their gender. This workshop examines some of the ways in which gender-based stereotypes impact our relationships with others and ourselves.
Where?: Sexual Assault Support Centre of Waterloo Region 300 -151 Frederick St., Kitchener in the YWCA Boardroom
When?: October 25, 2018 at 6:30PM – 8:00 PM
Please submit the RSVP form below by October 19th to enter the draw.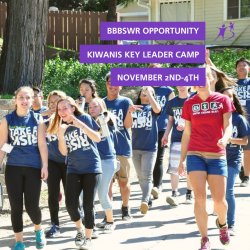 Kiwanis Key Leader Camp
BBBSWR Opportunity
Who?: Littles Aged 14-18
What?: An overnight camp where attendees will learn the value of being leaders in their school and community. While at the camp you will have the opportunity to engage in a series of workshops and team building exercises, such as a high ropes course.
Where?: Circle Square Ranch – 1645 Colborne St E, Brantford, ON
Families must be able to arrange their own transportation to and from this location
When?: November 2, 2018 – November 4, 2018
Registration begins on November 2nd between 4:00-6:00 PM
Camp wraps up on November 4th at 12:00 PM
Please submit the RSVP form below by September 26th. This opportunity is first-come-first-served with only 5 subsidized spots!
Cost: Littles are asked to pay $50 to attend his camp (Kiwanis has subsidized this rate from the regular payment of $230)
Please RSVP below for this first come, first served opportunity. BBBSWR will form a waitlist once the 5 spots are spoken for. By replying to this email you are also confirming the right for BBBSWR to forward your information to the Kiwanis Club.
As this is a third party event, BBBSWR will have no further involvement after notifying those selected and forwarding their information to the Kiwanis Club. All further questions at that time should be directed to the Kiwanis Club; you will receive this information if BBBSWR confirms your spot to attend.
For opportunities marked "*RSVP", you are required to complete the form below.
Tickets are given out on a first-come-first-served basis and are only available to those involved with our agency.
Tickets will need to be picked up at the BBBSWR office between 9:00 AM and 4:30 PM on weekdays.