Junior Achievement – Fish Tank
BBBSWR Opportunity
Who?: Littles aged 9-13
What?: JA Waterloo Region's new summer camp, Fish Tank, is an introduction to all things entrepreneurship! Fish Tank offers campers an exciting approach to learning about basic business skills. With the guidance and support of JA camp counselors and special guests, campers are taken through each step of creating their very own business.
Over the course of a camp week, campers take part in several activities and small business tours to learn the process involved in manufacturing or producing a product, along with the challenges of running a small business. The group will take a walking tour to a downtown charity to learn about the importance of Social Entrepreneurship and giving back to the community. The week will end with a sales blitz where campers promote and sell the handmade products they have worked on during the week to consumers in downtown Cambridge; taking home their profits at the end! Fish Tank will shape your young fish into business conscious sharks!
Where?: Cambridge City Hall, located at 50 Dickson St, Cambridge
When?: Monday, August 20th to Friday, August 24th, with camp taking place each day from 9:00am-4:00pm, with extended care available free of charge from 8:30am-9:00am and 4:00pm-5:00pm
How?: *RSVP by July 27th below to indicate interest, if there is more interest than space available, there will be a draw. The typical cost for this camp is $185 per camper, but the camp is subsidizing this opportunity for our families by $105.00. Therefore, interested guardians will be responsible for paying $80.00 towards the cost of their child participating in the camp.
Kitchener Panthers Baseball Game
BBBSWR Opportunity
Who?: All agency members, families & Matches
What?: Come out and cheer on your Kitchener Panthers baseball team at home!
Where?: Jack Couch Ball Park, located behind the Kitchener Auditorium at Eugene George Way, Kitchener, ON N2H 3L1
When?: Tickets are available for the following home games:
Sunday, June 10 @ 2 p.m.
Thursday, June 14 @ 7:30 p.m.
Sunday, June 17 @ 2 p.m.
Thursday, June 21 @ 7:30 p.m.
Thursday, June 28 @ 7:30 p.m.
Sunday, July 1 @ 7:30 p.m.
Sunday, July 8 @ 2:00 p.m.
Thursday, July 12 @ 7:30 p.m.
Sunday, July 15 @ 2:00 p.m.
Thursday, July 19 @ 7:30 p.m.
Sunday, July 22 @ 2:00 p.m.
Thursday, July 26 @ 7:30 p.m.
Sunday, July 29 @ 7:00 p.m.
How?: *RSVP at least 2 business days prior to the game you wish to attend. These tickets will be distributed on a first-come-first-served basis. Please state which game(s) you are interested in below.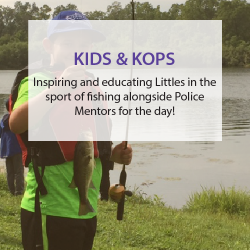 KIDS & KOPS FISHING DAY
BBBSWR Opportunity
Who?: Littles aged 7-13
What?: This event is to inspire and educate our Littles in the sport of fishing and to give our Littles a chance to fish with police personnel who will be their Mentors for the morning. This is a great way to foster respect in a relaxed fun setting! This is a catch and release program. No equipment is needed. The Littles will have lunch with their Mentors at McDonalds after fishing.
Where?: Tim Horton's Onondaga Farms – Fishing Pond (DO NOT GO TO THE OFFICIAL CAMP ENTRANCE)
When?: Tuesday, August 7th @ 9:00 AM-1:00 PM
How?: *RSVP below by July 30th
Please Note: Parents are asked to bring your child directly to the fishing pond. You may stay and relax while your child fishes or plan to come back by about 11:45 to drive your child to McDonalds for lunch. Please let us know ahead of time if your child has any allergies or diet restrictions. Your child's lunch will be paid for.
In order to participate in the event, a waiver must be signed by the parent/guardian. A copy of the waiver is attached to this email. Please bring the signed waiver with you on the day of the event. If needed, blank copies of the waiver will be available the day of the event for the parent/guardian to sign on the spot. If the parent/guardian is not attending the event with their child, the child must arrive at the event with the waiver signed. If a child arrives at the event without their parent/guardian and does not have a waiver signed, they will not be permitted to stay. If you have difficulty accessing the waiver, please let me know as soon as possible.
Waterloo Region Police have advised that they hope to take photos at this event, including photos of the participants. If you are not comfortable with your child being photographed by the Waterloo Regional Police Service, please notify me as soon as possible OR speak to the BBBSWR caseworker immediately upon arrival at the event. If you have any questions about the use of photos by Waterloo Regional Police Service, please notify the BBBSWR caseworker the day of the event and he/she will direct you to the Waterloo Regional Police Service representative.
For opportunities marked "*RSVP", you are required to complete the form below.
Tickets are given out on a first-come-first-served basis and are only available to those involved with our agency.
Tickets will need to be picked up at the BBBSWR office between 9:00 AM and 4:30 PM on weekdays.