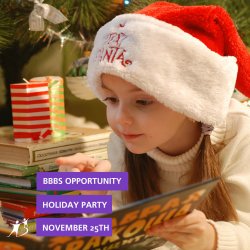 Annual Holiday Party
BBBSWR Opportunity
Who?: Littles, Bigs, Waitlist, & Families
What?: We are excited to announce the upcoming Annual BBBSWR Holiday Party and some exciting changes this year – like our new location for the party! Come out to kick-off the holidays with BBBSWR staff, participate in holiday-themed activities and enjoyed a catered meal! Please see the event schedule below:
11:00 AM – 11:45 AM: Holiday Trivia (recommended for older matches) and Holiday Themed Activities
11:45 AM – 12:45 PM: Catered Meal
12:45 PM – 1:45 PM: Holiday Themed Activities
1:45 PM: Event Wrap Up
Where?: The Kitchener Market – 300 King St. E., Kitchener, ON.
When?: Sunday, November 25th, 2018 @ 11:00 AM – 1:45 PM
Please RSVP below by Monday, November 19th at 12:00 PM. This will be a first-come-first-served opportunity until we reach capacity. Once capacity has been reached we will form a waitlist. Please note, priority will be given to immediate family members of those enrolled at BBBSWR.
Forward Church Community Christmas Dinner
BBBSWR Opportunity
Who?: All agency members and families
What?: Forward Church will once again be hosting their annual Community Christmas Dinner for under-resourced families in our community. With hot apple cider, coffee, juice, snacks and games ready to be enjoyed. The evening will include crafts, family photos, a delicious catered dinner, a variety of entertainment for all ages, and a holiday gift giveaway for guests up to age 18. The evening will conclude between 7:30-8:00 PM.
Where?: Forward Church – 55 Franklin Blvd., Cambridge, ON.
When?: Sunday, November 25th, 2018 @ 3:30 PM (following the BBBSWR Holiday Party)
Please register at their website here. Should you have any further questions about the event, please contact elizabethv@forwardchurch.ca
For opportunities marked "*RSVP", you are required to complete the form below.
Tickets are given out on a first-come-first-served basis and are only available to those involved with our agency.
Tickets will need to be picked up at the BBBSWR office between 9:00 AM and 4:30 PM on weekdays.