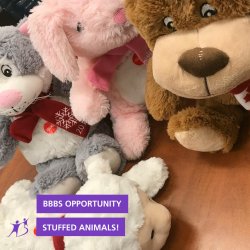 Stuffed Animal Giveaway
BBBSWR Opportunity
Who?: Guardians and Bigs
What?: Come in before the holidays and pick-up one or more stuffed animals, generously donated by PetSmart
Where?: BBBSWR Office: 30 Duke Street W. Unit 302, Kitchener, ON.
When?: December 13th to December 21st from 9 AM – 4:30 PM
All stuffed animals must be requested on or before Wednesday, December 19th at 12:00 PM, and are First-come-first-served. Families are welcome to request as many stuffed animals as they would like.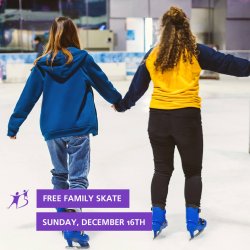 Free Family Skate
BBBSWR Opportunity
Who?: Available to all
What?: Sponsored by the KW Community Spirit Lions Club and CrimeStoppers, join us for a Free Family Skate on Sunday December 16 from 12-2 on Pillers Rink at RIM Park. Free hot dogs and hot chocolate will be provided (while supplies last). Santa will be on the ice from 12:15 – 1 pm.
Where?: Pillers Arena, RIM Park, Waterloo, ON.
When?: Sunday, December 16th, 2018
For opportunities marked "RSVP", you are required to complete the form below.
Tickets are given out on a first-come-first-served basis and are only available to those involved with our agency.
Tickets will need to be picked up at the BBBSWR office between 9:00 AM and 4:30 PM on weekdays.