Meet Hannah – April Mentor of the Month
"Just knowing you are making a positive contribution to someone else's life and helping them grow in ways they were unaware of, is so special" is how our April Mentor of the Month, Hannah describes what it's like being a Mentor. We are so excited to be able to share and recognize Hannah's incredible story of being an In-School Mentor with BBBSWR! Thank you Hannah for dedicating your time to your Mentee and showing them what it's like to have a strong, consistent Mentor in their life.
Hannah currently attends Wilfird Laurier University and is in her 3rd year of her Health Sciences Degree. After she graduates, her goal is to go to Medical School! Outside of school, she likes to spend time with her family and friends, and going on adventures with her dog, Rosie! As COVID-19 restrictions continue to lift, Hannah dreams of travelling Europe. Over the last 2 years, Hannah has found that, "spin classes are such a fun way to stay active and relieve stress" – way to go!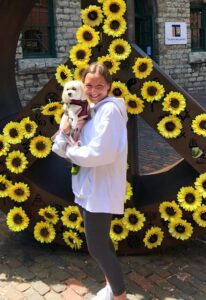 Hannah is a new Mentor to our In-school Mentoring program but has since made a huge impact on her Mentee. Being matched in November 2021 warrants a lot of learning, but Hannah expresses that, "While I have not been volunteering within the agency for a long time, the time I have been volunteering for has been super enjoyable and memorable." Hannah even continues to explain her experience as, "My match visits are truly the highlight of my week" – Amazing!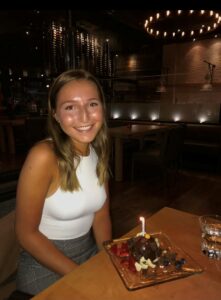 Family has been a staple in Hannah's life for as long as she can remember. She explains that, "growing up, I have always had a strong relationship with my family, especially with my twin sister who, although we are the same age, provided me with such amazing advice and with an outlet for support." Hannah is grateful for the strong relationships and Mentors she's had in her life and wanted to be able to provide the same for someone who needs it most right now. Support from her community around her has "been really important" and she mentions that, "I wanted to provide someone else with the same outlet of support, and with the special relationship that I have been fortunate enough to have." Her growth as a young woman began by the strong foundation she had growing up, and that was a driving force for her want to volunteer. – Thank you Hannah for giving back and providing a strong foundation for your Mentee. Even better, as you put it – "providing some extra light and fun in everyone's day!"
Being an In-School Mentor with BBBSWR is not the only volunteer experience Hannah has. Currently, she helps in the Accessible Learning Centre by providing her class notes to students who need them, she is also a Health Sciences Mentor to a first year student in her program. In the past, she helped with various organizations and charities through her high school volunteer hours. It was during this time she learned, "first-hand the impact it had on the community and inspired me to continue volunteering."
Each week, their meetings together offer different activities and conversations, but one common activity that happens every time is talking about their 30-day gratitude journal. At the
beginning of each session, they use the prompts in the journal to help start their time together on a positive note. They often take part in "a variety of crafts and games."  They have also done some pretty unique things during COVID-19, like going to a virtual Zoo or even Disney Land! Hannah tells us a story about her favourite memory, she says,

One of my favourite memories with my Mentee would have to be during one of our visits where we both seemed to be feeling tired and restless from sitting in classes all day. I could tell we could both use a little pick-me-up, so together we created this fun activity which involved a mini dance party. Within that hour, we were both able to be ourselves and show off our silly sides while forgetting about everything else.
COVID-19 has been a struggle for us all, and there is no doubt that some days were challenging for Hannah and her Mentee. Hannah explains to us the transition she saw by her Little in just a few short weeks, she says, "When I first met my Mentee, she was super shy and hesitant to bring up any kind of conversation or ideas of what she would like to do during our visits. I have gotten to watch my Mentee become more and more confident each time we meet, as she has so much to say and so many amazing ideas to share with me." As each week goes by, Hannah's Mentee seems to want express herself even more. Hannah explains that, "she is eager to fill me in on the past week, and it feels so rewarding to watch my little become so confident and continue to grow into an amazing person."
Hannah has excelled in her volunteer position here at BBBSWR and she is an amazing role model for her Mentee. We are so thankful for you and we are excited to watch your match and relationship continue to flourish. There is one line that you said, that is a perfect way to explain how Mentoring during a pandemic has been, you said, "Even though this was done virtually, there was so much positive energy being radiated, and it really showed me that while my Mentee and I are unable to meet in person, nothing can stop us from creating memories, building a strong relationship, and having fun." Thank you for radiating your positive nature and for being a strong foundation for your Mentee! Good luck with your match and continue, "having fun!"