Meet Christina – February Mentor of the Month
We always say that our Mentoring Programs go full circle, and this is true for our February 2022 Mentor of the Month, Christina!
Growing up, Christina was fortunate to have great mentors and role models to help shape who she is today. She mentions that, "As I've gotten older, I've come to realize how important some of these people have been for building my confidence and realizing my potential". Christina uses the skills she has learned from her own mentors to help her Little's (Mentees) grow to realize their potential too!
Christina currently attends the University of Waterloo as an Honours Science student – her most favourite areas of study include Biology and Psychology. Outside her student life, she enjoys cooking, playing hockey, and knitting (COVID hobby). In her spare time, she has also volunteered with our agency as a Big Bunch Mentor since the summer of 2020! Supporting our Littles in the Big Bunch program is not all – Christina currently volunteers with the UW's SickKids Club, she's a research assistant, and a Mentor for the UW Science students. Not to mention her time with the Food Bank, shelters, hospitals, and hockey camps over the years, wow!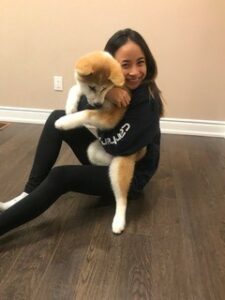 Christina has only been part of our Big Bunch Program virtually, so she has had the opportunity to experiment navigating this digital nearness we find ourselves in. Christina mentions that, "We often had some physical activities for a warm-up, ice breakers to get to know each other better, and then a big activity. We've had some really fun activities in the past, like a paint night, a scientist, and even a magician!" Christina notes that the Littles in the Big Bunch program have adapted well to the online environment – she even positively mentions that because of the online space, it is easy to, "welcome guests that were from places outside of Waterloo."
When asked about Christina's fondest memory, she tells a story about one of her sessions involving a paint night. She responds saying,
With virtual sessions, it can be common for some Littles to keep their cameras turned off…but because some of the Littles had their cameras off this session, I didn't really know if anyone was following me (besides the other mentor and one other Little). However, by the end of the paint session, I asked if anyone wanted to share their paintings with the group and a lot of the Littles turned on their cameras with some amazing paintings! It was so nice to see so many "sloth hanging on a branch" masterpieces!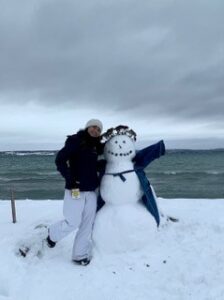 As mentioned, Christina is a perfect example of how Mentoring truly comes full circle. Her encouragement to becoming a Mentor with Big Brothers Big Sisters of Waterloo Region was driven by the support she felt from her community that surrounded her throughout her life. She expresses her thankfulness to her mentors and those who helped her grow to be the woman she is today. She is a perfect embodiment of what our organization strives to be. She writes that, "My motivation for mentoring is to use the skills that I have learned from my own mentors to hopefully help our Littles grow and realize their potential too".
Thank you, Christina for supporting our Littles and helping them grow. We are incredibly thankful for you and we know your Littles are too!