Meet Andy – January Mentor of the Month
We're excited to announce Andy Chea as our January Mentor of the Month! Andy has been a volunteer with BBBSWR for a year now in our In-School Mentoring program, but has come to us with plenty of volunteer experience—over 2000 hours across different community organizations including St. John's Ambulance in Guelph and Shelldale Better Beginning Better Futures in Guelph! We don't know where he finds the time, being enrolled in a BScN (Bachelor of Science in Nursing) program with McMaster & Conestoga, but we're incredibly grateful that he does!
How did you find about BBBSWR?
Andy: Growing up I had always heard about BBBS through various people in my community and network, and I had personal mentors myself, but I had the opportunity to fit it with my school schedule and do my community placement with the organization, and I was sure that this was the placement that I wanted to do. I've loved it ever since and I will continue to volunteer with the organization.
What moved you to want to volunteer?
Andy: I've always been a big believer when it comes to volunteering and its benefits, and this is something that I've always wanted to pursue while growing up but never had the full experience or opportunity to. I'm finally in a place where I can donate my time, and I'm glad I made this decision to. I just want to give back the experiences I've had while growing up when I had my own mentor!
What does mentoring mean to you?
Andy: Mentoring to me is more than a 1-on-1 session. It's a journey in which an older individual shares their experiences and grows alongside you. They share, reflect, chat, and give you a sense of security and trust that can't be bought with money; it's gained through a connection. You learn more about one another and reflect on the positive and healthy engagement you both go through. Overall, it's a positive experience that both parties look forward to.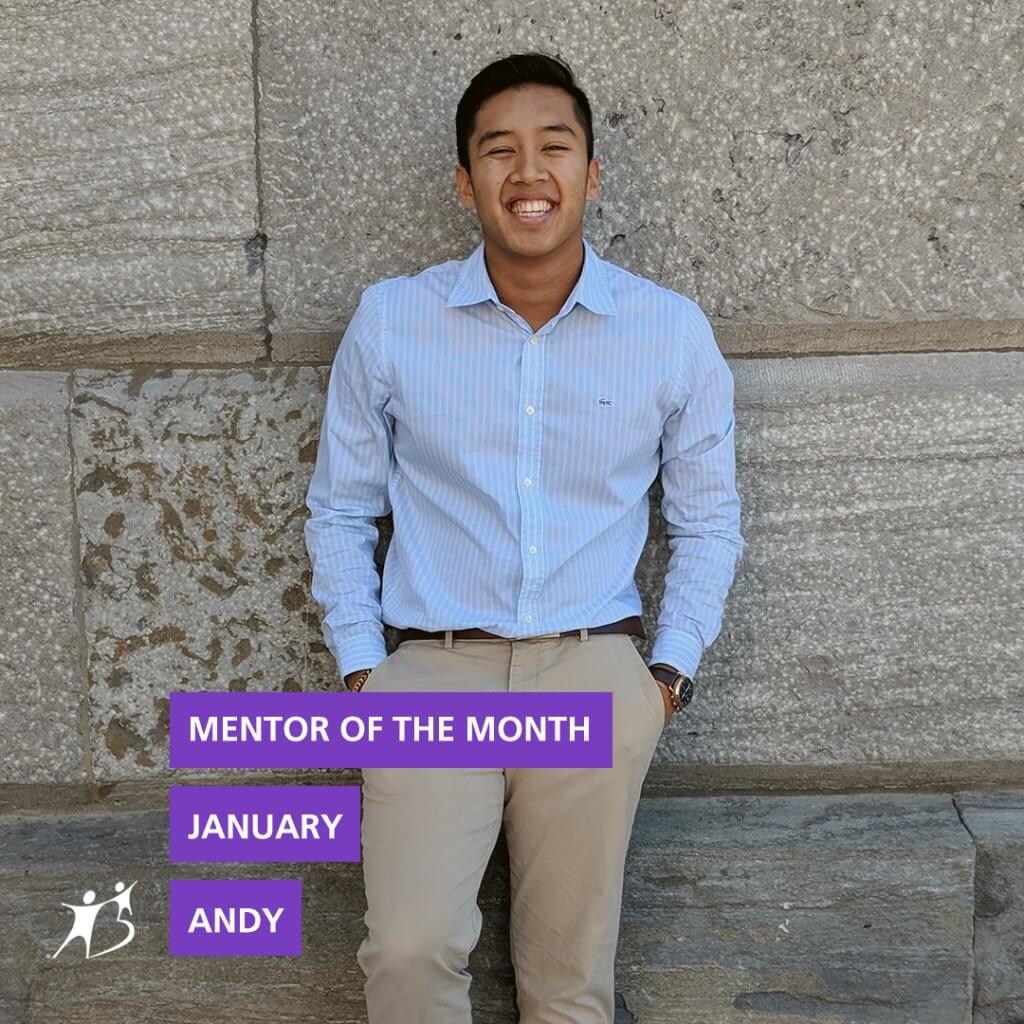 Why do you think being a part of a community is so important?
Andy: I believe community is so important because it builds a sense of belonging and allows individuals to connect. Community engagement is a vital part of making something feel like home—and we all want a great home. It starts with community.
What is your favourite thing about volunteering and why?
Andy: Just connecting and building a relationship. You learn new things every day, as we're all students of life. I learn new things from my Little Brothers and I'm able to teach them a few things that they're excited to share with their friends and family. I just love the feeling that what you do counts. You see change and progress through a reflection of the whole relationship. I've volunteered for most of my life, so I enjoy it because it keeps me whole.
Can you recall a favourite memory with your Littles?
Andy: Well on an average day we tend to play board games, do crafts and experiments, and have some friendly contests! But my favourite memory? I'm a breakdancer, and there was this one time we spent some time breakdancing and I was able to teach both of my mentees a dance move. It was just a super awesome time and I think they are better dancers than me!
Can you speak to the impact you see on your Littles?
Andy: The impact is profound. If you reflect on the time from the first visit to the last of the school year you really notice a difference. You start to realize how much they've changed, how comfortable they are and how they wait for you, week to week, to come visit. It's sweet, they consider me to be the highlight of their weeks and I hope to continue to grow and have more awesome fun with them!
What kind of skills do you think you are gaining while being a volunteer here?
Andy: I think I'm gaining 3 main valuable skills. Communication, leadership, and confidence. Communication comes from discussing with your mentee on the regular and catching up with them, while developing a healthy relationship and always being kept in the loop of how things are going. Also, keeping in touch with specific teachers at school and the staff is great! I gain leadership skills by organizing and being responsible for our activities, and I'm becoming more confident by going into every visit with the positivity that it will turn out well and that what I'm doing matters.
What would you suggest to people who are thinking about volunteering but don't know what to expect?
Andy: Don't be afraid. If you're considering this, you are an amazing individual who is going to inspire change in a mentee. You will do it effortlessly and will notice change within no time. It's a positive, rewarding, and engaging thing to participate in. I've been volunteering my whole life but every moment I've experienced in my life has lead me to this and I love it and will hope to continue to do this for as long as I can.