Meet Barry! March Mentor of the Month
Barry—our March Mentor of the Month at Big Brothers Big Sisters of Waterloo Region—is a young working professional with a growing family! With a toddler of his own and another on the way, he still finds the time to be a Big Brother to his Little—Joshua!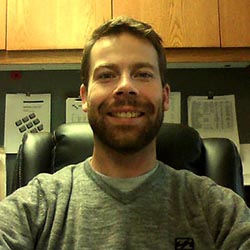 Barry's story that led him to Big Brothers Big Sisters of Waterloo Region is incredibly touching.
"I've always been aware of the association. My reason for gravitating towards it was because of Dale, one of my best friends who's passed away. Dale tragically lost his life visiting his family in Nova Scotia for Christmas. Dale always regarded Big Brothers Big Sisters as something commendable, and as he moved into his adult years he became a Big Brother himself in Kitchener. He was committed to the organization by being a Mentor and helping out with fundraisers and things like that."
Barry has been involved with Big Brothers Big Sisters before even becoming a Mentor, by hosting an annual golf tournament in memory of Dale, with the proceeds going towards Big Brothers Big Sisters of Waterloo Region—the organization that Dale resonated with. The James Dale Greer Memorial Open last year raised $18,000 for our organization! Barry says "the tournament assisted with my decision to dive into Big Brothers Big Sisters full force", and we're glad that he did!
Barry has been matched with his Little—Joshua, for 6 months now. One of the things that Joshua wanted to do was learn how to skate, as he'd never been before. His mom bought him skates, Barry bought him a helmet, and his neighbour donated some hockey equipment! A real community effort. He went from not being able to stand on the ice to skating without an aide, and he keeps getting better and better! "Just seeing the smile on Josh's face makes me feel that what I'm doing is working."
Not only as a Mentor but also as a part of the community, Barry deserves recognition. "It's where I live; It's where I grew up; It's where my family lives; It's where my family will grow up. I'm a big believer in giving back, and, in turn, hopefully it will make it a better place for my children to grow up in". When asked what mentoring means to Barry, he responded with "To me, it's an opportunity to give back to the community. Giving a child an opportunity that he may not otherwise have. It's peace of mind in regards to giving back to the social consciousness of the community."
For all of these reasons and more, Barry makes an incredible Mentor of the Month. We're excited for the JDG Open 2018 as well! Want to get involved or show your support and hit the course this year?