Meet Jordyn – November Mentor of the Month
Our November Mentor of the Month is someone that knows how to get into the spirit of the holidays! Whether it's decorating pumpkins in October for Halloween or enjoying the snow and getting into the Christmas mood, Jordyn knows how to make the best of it! We're proud to call Jordyn our November Mentor of the Month.
Jordyn's a first-year student enrolled in the Veterinary Technician program at St. Clair College. She's been a volunteer at Big Brothers Big Sisters of Waterloo Region in our In-School Mentoring program for the past three years, and we're so incredibly thrilled to call her a Big. People become volunteers with Big Brothers Big Sisters for a number of reasons, discover our programs through a variety of outlets, and invest their time for a number of rewards. Jordyn discovered BBBSWR through her grade 12 co-op course and was immediately interested in investing her time. The reward for Jordyn is seeing the impact she has on the life of her Little.
I was moved to volunteer because I wanted to make a positive impact on my community. There is nothing more beautiful than to help today's youth build their self-esteem and create positive relationships. Mentoring is very important to me because growing up I was always able to turn to my grandma for anything that I needed, she was my Mentor. She was always there for me regardless of what she had on her plate, and I believe that everybody needs somebody like that to be there for them.
Jordyn is an advocate for community and maintaining long-lasting positive relationships. She believes in the importance of being able to develop these, and how they can create a sense of belonging. Her connection with her Little goes beyond the In-School Mentoring program. On an average day when they meet they catch up and tell each other all about all of the events and things that have happened the past week. Having somebody to talk to about these are so important, everybody should be able to do that!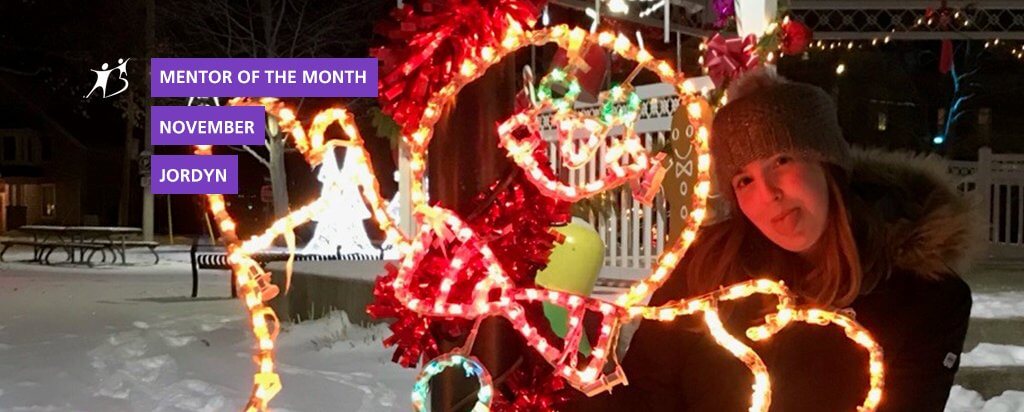 After chatting and catching up for a little bit, on an average day with her Little, Jordyn gets to do some fun activities, like science experiments and making arts & crafts. It sounds like they have a ton of fun! "My favourite memory with my Little was making pumpkin faces. We used real pumpkins and decorated them with paint, glitter, and stickers. We then used them for Halloween decorations." Such an interesting and creative take on jack-o-lanterns!
The impact I see on my Little is such an accomplishment. I was able to see my Little grow into such an amazing young student who strived to be the best person possible. The skills that I gain from being a Mentor are so satisfying. I've learned to be an excellent communicator and I have learned to plan ahead for future activities.
We asked Jordyn what she would suggest to people who are thinking of volunteering but don't know what to expect, her answer was perfect. "I would suggest to take a chance and go for it. It is such an amazing experience and you will have such a memorable time with the Littles. The impact that you will have on your Little's life is surely one that you will be forever grateful for."