Meet Angela – September Mentor of the Month
This month's Mentor of the Month is an incredibly special one as September is Big Brothers Big Sisters Month! We're proud to call Angela our September Mentor of the Month! Angela is a second-year student enrolled in the Social Services program at Conestoga College. Angela finds fulfillment through volunteering, she sees herself being the best person that she can be when she's volunteering her time to help other people. Like many people do when they're young adults, she asked herself what she would do for the rest of her life if money wasn't option—her answer was volunteer. This is the type of passion that leads people to move mountains!
Angela discovered Big Brothers Big Sisters of Waterloo Region through her best friend. After being enrolled in the program as a Little Sister, Angela's best friend and her Big Sister are still close 20 years later—she even attended her wedding! This is the type of impact that Mentorship has on the lives of youth, which is carried with them forever. Comparing this relationship with the one that she has with other best friend—her mom, has guided Angela to becoming a Big Sister herself. She believes in the importance of every girl being able to have that cherishing best friend relationship with somebody. After over a year of being Matched as a Big Sister to the same Little—she's incredibly excited to say that her Match is finally shifting towards that!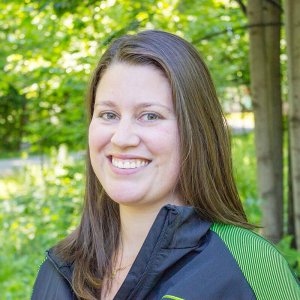 As it can be a challenge for some kids to open up, she came into this experience with patience and commitment, which is paying off as her Little has been taking interest in the activities they do and is vocal about the sort of experiences she wants to have! Angela and her Little do everything from being incredibly creative in their Match activities, planning things like science experiments, making slime and bottle rockets, to having some really active outings like going to the Splashpad and Waterpark! "When I was a kid I would've loved to do the things that I wouldn't normally think of, things that would've taken me out of my comfort zone. I think that's what we're doing now. Things like going to the driving range—we both discovered we're terrible at golf!" After asking Angela why Mentoring is so important to her she answered:
Mentoring is so important to me because I grew up in a tightknit community. I had 4 or 5 neighbours that I could rely on if my mom wasn't around to talk or something else was up. I could always reach out to these people. I never felt like they would brush me away or judge me or lecture me like a parent or guardian would—I just always felt supported and that was really important to me. Whether it was a delicate subject that I needed a different type of person to talk to other than a parent, or I just needed an outside perspective, I always had that support system. Support systems are so important for kids, especially if they don't have people that are able to meet them at their level and hear them out—everybody needs somebody to do that.
It's evident that Angela is passionate about volunteering and supporting her Little, but this isn't where it stops. After getting involved with Big Brothers Big Sisters and seeing the impact that she could make, Angela dove into volunteering in other capacities, becoming a reading buddy at the Kitchener Public Library, getting involved with Girl Guides Scouts, being part of a 24-hour support line, and volunteering with Community Justice Initiatives.
Discovering that Angela was so active in the community lead to another question—do you have a favourite volunteering memory? She responded:
Just recently, my Little and I went to the park and had a picnic—it seems like she's grown a foot overnight! One day was actually a "Little" and the next she's a teenager! She started talking about friends in her class and laughing about not wanting to become a moody teenager. She was finally letting her walls down and opening up! She finally let herself have fun and let the weird side out that we all have!
This experience is what moves everybody involved with a Big Brothers Big Sisters program to do what we do. Seeing a real impact on the life of a young person for the better. Angela believes that the Big Sister program is really positive, part of it is creating new experiences that the child wouldn't have otherwise like bowling or mini golf, and the other part of it is simply giving them a friend and meeting them at their level, giving them somebody that they can get advice from that won't go into mom-mode or lecture-mode.
Angela's advice for anybody thinking about volunteering with Big Brothers Big Sisters but don't know what to expect:
Just be open to anything, every child is different. They're all going to need something different, they're all going to react differently, they're all going to want different experiences. You're going to gain a valuable skill in creativity by coming up with ideas and outings. You get to bust out your imagination and be a kid again.
We're so proud to call Angela our September Mentor of the Month, especially for BBBS Month, and we're excited to have had impacted her outlook on volunteering as much as she's impacted our agency!