Meet Melissa – April Mentor of the Month
Meet Melissa, an artist and instructor based in KW who is an animal lover and nature enthusiast. She has many of nieces and nephews, a dog, and a wonderful partner. Melissa volunteers with Big Brothers Big Sisters of Waterloo Region in our Big Sister program.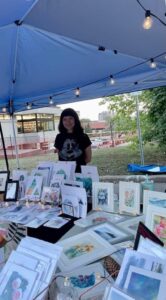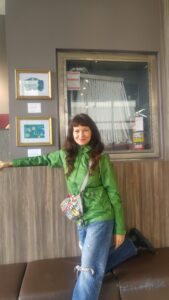 Melissa began her journey with BBBSWR in 2019, she contacted the organization to learn more about mentoring opportunities. She was excited about matching with a little who perhaps shared some common interests. Melissa has been volunteering for about 2.5 years now and shares it has been the most rewarding experience.
When asked what moved her to want to volunteer, Melissa replied that she "loved the idea of having a special and fun relationship with a mentee in the community who might benefit from some extra attention and support." She knew that she too would benefit from this type of volunteering as she has many interests such as art, the outdoors, animals and of course candy-eating, which would all be even more fun to experience with a mentee!
Mentoring to Melissa means a "special opportunity to connect with a younger person and help them really understand their worth, their unique traits and qualities, and ideally introduce them to other experiences they might enjoy." She explains that "mentoring a youth is being another person in their support system and cheering squad, someone who is in their corner and wants them to shine."
Melissa has had shorter-term volunteer experiences with various community organizations, schools, fundraising initiatives, but being a mentor with BBBSWR has been the most rewarding and fun experience. Melissa believes that being a part of the community is important as we need each other, and we are better and healthier when we support one another. "We learn to be more empathetic and compassionate when we give back, and the rewards are happier, healthier families and neighborhoods, well-rounded kids, trusting relationships, and better communication."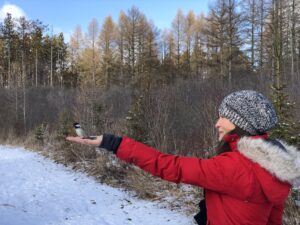 On an average day with her mentee, they chat a ton, maybe do an art or craft project together, eat some delicious treats, and in the nicer weather, play at a park, walk her dog, or go to get ice cream. Her favorite thing about volunteering is laughing with her mentee, seeing her smile, watching her be the thoughtful and funny kid she is. Knowing that they have a special bond, and that they're making great memories together.
Melissa recalled a favorite memory with her mentee, where they went out for their 2-year "sisterversary" to the Mandarin restaurant. It was so fun watching her mentee's eyes light up when she showed Melissa the koi fish, the buffets, and the fancy desserts! Melissa has many other awesome memories with her mentee, another being working on a scrapbook together using pictures they take from their adventures.
When asked about the impact she sees on her mentee, Melissa said she "sees her mentee becoming more confident in herself, more self-compassionate, and more willing to try new things." She always praises her mentee when she notices her being extra kind, brave, patient, or generous!
Being a Big Sister has helped Melissa develop a greater sense of responsibility and accountability for her words and actions, even outside of their visits. Being a role model for a younger person who looks up to her for approval and direction, Melissa wants to demonstrate behaviors and an attitude that is positive and healthy. It's more important to her now to be aware of how her actions influence others, and she wants that to be a positive thing!
Melissa suggests to those interested in becoming a mentor to connect with the volunteer coordinators and ask questions! Learn about the opportunities available and which roles best fit with what you have to offer in terms of commitment level. And chat with other volunteers and know that you have the potential to make a huge difference in someone's life!