Meet Anthony –January Mentor of the Month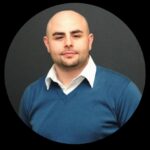 This month we are so excited to showcase Anthony! Anthony has been a mentor since 2017 and has been apart of our Big Brother and Big Bunch programs during his time with BBBSWR.
Anthony enjoys helping others and giving back to his community. He had seen the concept of being a Big Brother in different movies and TV shows and looked to see if there was a similar organization in his area. To our luck, he found our organization BBBSWR and started the process of becoming a mentor.
To Anthony, mentoring means, "Giving back and providing help to those in need. I want to be a positive influence in the lives of others and being a mentor allows me to do just that."
Anthony volunteers for multiple organizations outside of BBBSWR including the Male Allies for the Sexual Assault Support Centre and Student Links Mentoring Program through Community Living Ontario.
As you can see, Anthony is an active volunteer and pillar in the Waterloo Region community. Anthony shares, "I think being part of the community is important because being involved allows me the opportunity to connect with members of the community and gain a better understanding and appreciation for the value that comes from listening to the perspective of others."
Anthony enjoys participating and watching sports. A typical match meet-up for Anthony and his mentees include basketball, soccer, pool, ping pong, arcade, and bowling. One of his most memorable activities was going go-karting with his mentee!
During his time as a mentor, he has seen his mentees become more positive and gain a better attitude towards the world. He has seen his mentees become more comfortable and confident with themselves and others.
Anthony's favourite thing about mentoring is being able to provide a positive impact on someone else. He hopes that his "positive impact can be then forwarded by that person to someone else and continue on wards." As a mentor he has gained invaluable skills such as listening, communication, negotiation, relationship building, leadership, and mentorship.
Anthony suggests to those considering volunteering at BBBSWR to ask questions, be curious and take the opportunity to use the aid and support from the organization. Be yourself, have fun and enjoy the connections made while impacting the community in a positive way.
Thank you again to Anthony for his service to the community through mentorship. We appreciate everything you've done and the positive difference you've made for youth with BBBSWR.