Meet Hannah – July Mentor of the Month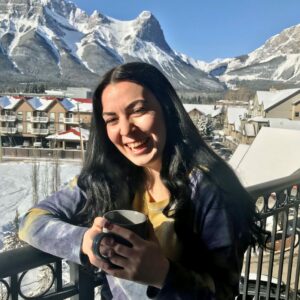 Meet Hannah, our July Mentor of the Month!  We celebrate Hannah and her dedication as a volunteer with Big Brothers Big Sisters of Waterloo Region for several years. Through her experiences as a Big Sister to a 13-year-old, Hannah has come to understand the profound impact of mentorship on individuals of all ages. She believes that nurturing mentor relationships are vital, as they provide lifelong role models and guidance through life's challenges. Hannah's insights shed light on the importance of organizations like BBBSWR in fostering mentorship connections across various environments and age groups.
The Importance of Mentoring
Hannah passionately emphasizes the significance of mentoring relationships and the profound effect they have on both mentors and mentees. She believes that simply walking through life alongside others and providing unwavering support can create lifelong impacts, especially for those lacking stability and consistency. Hannah considers mentoring an honor and recognizes that building a solid foundation takes time and patience, but the rewards are immeasurable.
Unforgettable Moments
Hannah reflects on the exciting activities she has shared with her mentee, ranging from thrilling trips to Canada's Wonderland and invigorating hikes to friendly competitions in bowling and laser tag. However, she cherishes the simpler moments the most, like sitting in a cozy café, engaging in meaningful conversations, or having heart-to-heart discussions during car rides. It is in these safe settings that Hannah has witnessed her mentee's growth in confidence and boldness, as their relationship evolves and trust deepens.
Personal Growth as a Mentor
Volunteering with BBBS has had a profound impact on Hannah's personal development as well. It has enhanced her ability to be an active listener, fostering deeper connections with her mentee. Additionally, she has become more creative in finding new ways to engage her mentee in community activities, broadening both of their horizons. The experience of volunteering with BBBS has enriched Hannah's life and contributed to her growth as a compassionate and understanding individual.
Investing Time in a Worthwhile Cause
With enthusiasm, Hannah highly recommends becoming a Big Brother or Big Sister with BBBS. She acknowledges the significant responsibility that comes with mentoring and emphasizes the importance of investing time and effort in such a worthwhile cause. Hannah's story serves as an invitation for others to join BBBS and make a lasting impact on the lives of children and youth.
Through Hannah's journey as a Big Sister, we gain insight into the profound influence of mentorship relationships. Her experiences highlight the transformative power of simply being there for someone, providing support, and building a foundation of trust. Hannah's commitment to BBBS has not only impacted her mentee's life but also enriched her own personal growth. Her story inspires us to consider the difference we can make by becoming mentors and investing in the lives of others.