Meet Kiyla – May Mentor of the Month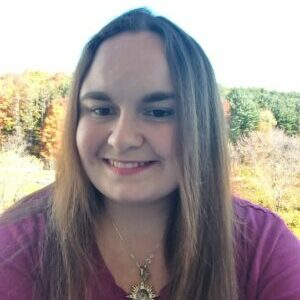 Meet Kiyla, our May Mentor of the Month! Kiyla introduces herself as someone with a passion for collecting old keys, an animal lover, and avid reader, evidenced by her bookshelf overflowing with cherished literary treasures. Her love for learning, exploring nature, and playing video games highlights her favourite past times.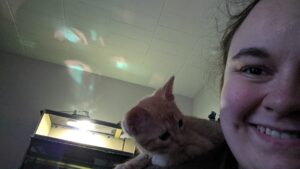 Discovering BBBSWR
Kiyla's introduction to BBBSWR dates back to her childhood when she first learned about the organization through an episode of The Simpsons. This initial encounter sparked a lasting curiosity about the program, ultimately leading her to explore the world of volunteering with BBBSWR. Kiyla has been a volunteer in-school mentor for the past 3 year. Since embarking on her volunteering journey in September 2021, Kiyla has a profound desire to make a positive impact, rooted in her personal experiences as a foster child and the transformative support she received during that time.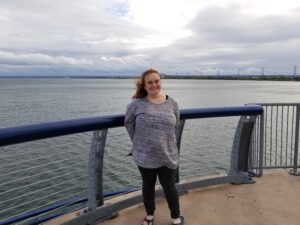 Embracing Community Involvement
In addition to her involvement with BBBSWR, Kiyla also volunteers with Junior Achievement South Western Ontario, where she teaches high school students about the world of business. Her commitment to multiple volunteering endeavors exemplifies her dedication to making a difference in various aspects of young lives.
Kiyla highlights the importance of community, emphasizing that it thrives on individuals who are ready and willing to support one another when needed. She believes that volunteering and actively contributing to the community are essential in cultivating a strong and supportive environment.
The Essence of Mentoring
To Kiyla, mentoring means adapting herself to meet the needs of her little brother or sister. It encompasses being a compassionate listener, a reliable sibling figure, a trusted friend, and so much more. Mentoring is about being a positive and influential presence in a child's life, empowering them to grow and thrive.
On a visit with her matches, Kiyla and her mentees have engaged in a wide range of activities, constantly exploring new hobbies together. From crafting paper rockets and salt painting to making slime, playing board games, and enjoying cooperative video games, such as Goblin Workshop, the mentorship bond is built through shared experiences. Among the memorable moments shared, one stands out vividly for Kiyla. She recalls a heartwarming incident when her mentee surprised her with a dandelion she had picked, overflowing with happiness and bouncing with joy. It is such cherished moments that reaffirm the deep connection between mentor and mentee.
For Kiyla, the most fulfilling aspect of volunteering is witnessing her mentee's sheer excitement when they come together for activities. The genuine joy and enthusiasm displayed by her mentee upon entering the room serve as a constant reminder of the positive impact she is making.
The Transformative Impact
Reflecting on her journey, Kiyla notes the significant transformation she has witnessed in her mentee. Her mentee has evolved into a brave, curious, and resilient individual, growing into their own unique identity. Through her volunteer work, Kiyla recognizes the development of valuable skills, such as active listening and effective communication. She also highlights how her mentee's presence has expanded her vocabulary by teaching her new words.
Kiyla offers valuable advice to those considering volunteering but feeling uncertain about what to expect. She emphasizes that every mentoring experience with BBBSWR is unique, and the beauty lies in the unexpected connections formed. As a volunteer, one can anticipate positively impacting their mentee or little sibling but also being influenced and inspired by the child's presence in their own life.